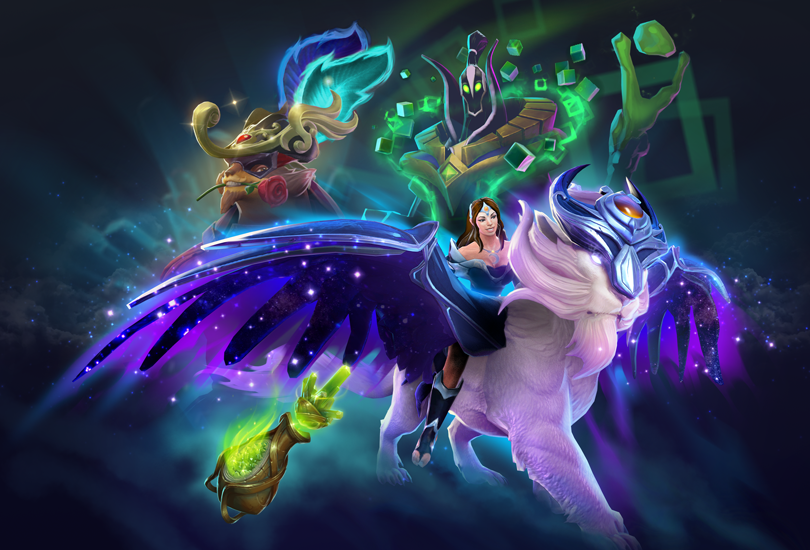 The Trove Carafe for The International 2018 is now available, featuring all-new items for Huskar, Ogre Magi, Pangolier, Venomancer, Rubick, Disruptor, Silencer, and Storm Spirit — as well as the debut of a reworked model for the indomitable Huskar to celebrate his new Immortal.
Each treasure also offers the chance to receive a rare Windranger item, a very rare Golden version of the Storm Spirit item, or an extremely rare mount for Mirana.
Choose to support your favorite broadcast talent at this year's event by purchasing autographed versions of the Trove Carafe. Just select the desired caster from the dropdown menu in the store to inscribe their autograph onto the contents.
Attendee Item Drops
This year will once again feature the chance for special item drops for audience members inside of Rogers Arena. At First Blood in each individual game, a limited number of exclusive Attendee Treasures will drop, each containing visually-unique versions of items selected from this year's Immortals, and inscribed with a first-blood tracking gem. To be eligible, you must have a badge linked to a Steam account and be in the arena when First Blood occurs. We look forward to seeing you at The International.
The International Main Event
After four days of intense action, The International 2018 Group Stage has now concluded, resulting in the elimination of Invictus Gaming and paiN Gaming.
Team Liquid, Evil Geniuses, PSG.LGD, OG, VGJ.Storm, Virtus.pro, Team Secret and OpTic Gaming all advance to the Upper Bracket of the Main Event.
Fnatic, VGJ.Thunder, Mineski, Winstrike Team, Newbee, TNC Predator, Team Serenity and Vici Gaming must face the crucible of first-round best-of-one games in the Lower Bracket on Monday, August 20 at Rogers Arena.
The broadcast begins at 10:00am PDT. Check out The International website for more info on all the ways to watch.