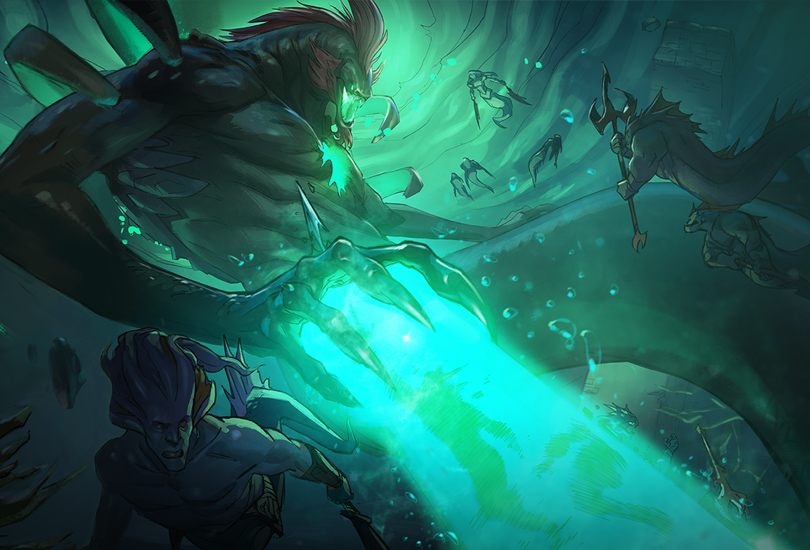 A day of reckoning has arrived. A long-dormant evil stirs in Dark Reef prison, and four chosen defenders must band together on a secret mission to stop the fiendish Siltbreaker and his enthralled host of followers. To face this dire threat, all Battle Pass owners are invited to journey across vast landscapes filled with hordes of monsters and other lethal terrors in the first-ever cooperative Dota 2 Multiplayer Campaign.
Each playthrough of this campaign offers the chance to earn in-game Artifacts that can be used each time you play the campaign during the Battle Pass season. Comprised of all-new items to the Dota universe, Artifacts are mythic objects of power that can be equipped in your inventory as you progress through the challenges of the campaign.
As Act I opens, Siltbreaker awakens in the depths of Dark Reef, and the mysterious Conclave of the Brine calls upon you to halt this dark power's ascent, starting with Siltbreaker's twisted creation—Rhyzik the Corruptor.
As you battle through multiple play zones in search of Rhyzik, you'll earn completion stars based on your performance level. The first time you complete a zone with one or two stars will net you Battle Points rewards, and delivering a three-star zone performance will grant a treasure from Siltbreaker himself.
Each Siltbreaker Treasure includes a chance to receive an indescribably-rare Immortal Desert Sands Baby Roshan courier, and Battle Pass owners with Battle Level 165 or higher will receive double the treasures for each three-star zone they complete with the reward bonus active. You'll also have the opportunity to unlock achievements that grant even more Battle Points.
Can you defeat Rhyzik to earn your just rewards and set up an Act II showdown with Siltbreaker? Party up with three friends or queue-met allies to find out. Stick together and stay alert. You might just stand a fighting chance.