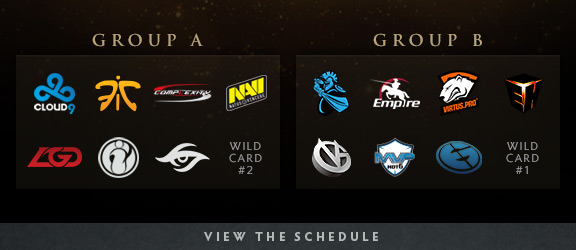 The Wild Card brackets, which will decide which two teams will claim the final two invites to The International, have been set. This Sunday, July 26th at 9am PDT, be sure to watch Team Archon, CDEC Gaming, Vega Squadron, and MVP.Phoenix battle for the last two slots in the tournament.
The team distribution for the Group Stage games has also been revealed. These games will determine the seeding for the Main Event. This year, Group Stage will be played over four days, with three games being played simultaneously, each viewable on its own stream. The Primary Stream will provide full coverage of Series A games, and between games we'll keep you up to date on the overall state of the Group Stage. Streams will start at 9am PDT each day beginning on Monday, July 27th through July 30th.
It all leads up to the Main Event, which starts at 10am PDT on Monday, August 3rd, with the Grand Finals being played on Saturday, August 8th.
Full coverage of all stages of the event will be available at The International site.