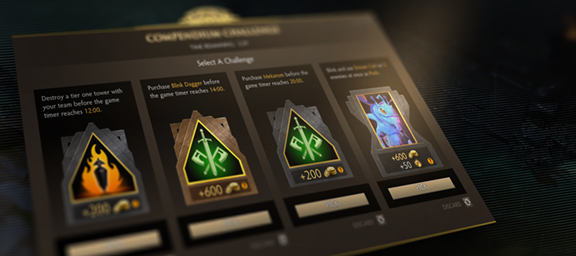 Today's update brings new ways to earn Compendium Coins and Levels.
The Ten Hero Challenge returns from last year, and gives all Compendium owners the chance to earn additional Compendium Levels by winning matchmaking games with a selection of heroes. The Ten Hero Challenge can be completed up to three times with a different selection of heroes for a total of 450 points (4.5 Levels).
We've also brought back Item Recycling. Whenever you recycle any 10 items, you'll earn 25 points toward a Compendium Level as well as a Charm of the Crucible Jewel II. There are also three Compendium Achievements for Charms to help you earn more Compendium Points. If you have extra TI5 Compendium Immortals, you can consume them to gain two Compendium Levels by right-clicking on them in your Armory.
All Compendium owners will now have an additional slot for hero-specific challenges in their list of in-game challenges, which will award both Compendium Coins and points toward Compendium Levels when completed.
Now that Team invites are out, don't forget to vote for your favorite players to participate in this year's All-Stars event. Completing this task will grant you 50 Compendium Points.