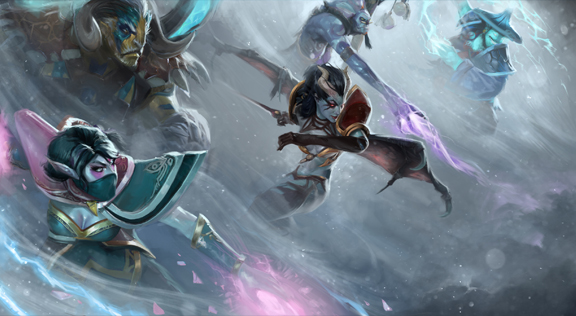 Merry not-Frostivus! Though the Wraith King may have risen, the clueless creep hordes still seek to destroy his royal Altar. That means Wraith-Night continues, and to help ensure the Altar sees the light of dawn, five more heroes have entered the battle: Elder Titan, Queen of Pain, Storm Spirit, Templar Assassin, and Witch Doctor!
It seems a few of you have earned the Wraith King's Favor and amassed a pile of Wraith-Night Ossuaries and Relic recipes, and now sit upon an oceanic treasure hoard of valuable Shining Fragments. Did you know you can exchange your Shining Fragments for Phantom Fragments in the "Redeem Fragments" menu? Don't let a single Fragment go to waste. Tis the season to pry open Wraith-Night Reliquaries, and stuff your chainmail stockings with even more Frozen items!
Need more reasons to get back out there? We've crammed in a few new rewards to whet your appetite for more Wraith-Night carnage. Now you can put your hard-earned Fragments toward the new Wraith-Night Feretory, which contains a fresh handful of exclusive items, or pick up the recipe to craft the Evergreen Stalker treant for Nature's Prophet. So grab your sword, your bow, your staff, or your hand-energy thingies, and make Your King proud!