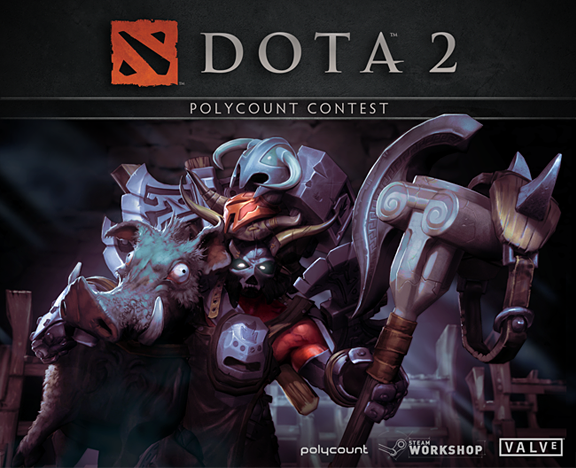 We are proud to announce our collaboration with the Polycount video game art community in a new contest for Dota 2! Contestants will create high quality item sets that our art team will judge. Winners will have their items added to the Dota 2 store and will receive special 'Polycount' quality versions of their items. The first Polycount contest with Team Fortress 2 produced some amazing results and we're excited to see what the community has in store for us now.
To get involved head over to the Polycount website and read the contest rules.
Useful things to know:
You don't need to own Dota 2 to participate! The downloadable spectator client has all the tools needed to upload submissions to the Dota 2 workshop. (We don't let 'limited' users upload to the workshop, so you'll need to have bought something on Steam at some point in the past. You can buy early access to Dota 2 here, but this isn't required if you own anything else on Steam.)
During the contest, you'll need to track the progress of your project on a public thread on the Polycount website in their Contests & Challenges forum. Update your thread with concepts, work in progress images, and discuss ideas with the Polycount community.
Submissions should be uploaded to the Dota 2 workshop via the game client and tagged with the 'Polycount Contest Entry' checkbox.
The deadline for entries is November 19th, 2012 @ 11:59PM EST, so fire up your copy of 3D Coat (or your favorite modeling package) and get started!

Polycount will receive a 5% share of all items sold in Dota 2 that originate from the contest. (This comes out of our share, not yours.) It's our way of giving back to an excellent community of artists and creators.
So head over to the contest page right now and get started on a project!