One of the new features you will find in today's update is the Hall of Fame: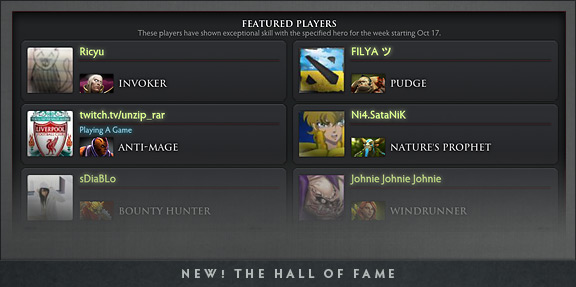 Interested in learning how to play a particular hero? The Hall of Fame will only list the best players currently active in the Dota 2 community, so if you're looking to improve your play these guys are a good source of knowledge.
Also, If you're like us, then you love seeing the awesome items the community has been able to create for the Dota 2 workshop. Last week we announced the Dota 2 Polycount Contest, and more than a few excellent productions have already caught our eye. Here's a few examples and be sure to head over to their forums for more!
If you're thinking of making items on your own, be sure to check out our new guide on authoring shader masks. No longer will you wake up in the middle of the night wondering how to make high quality masks for your cosmetic or courier.
Changelog can be found here.