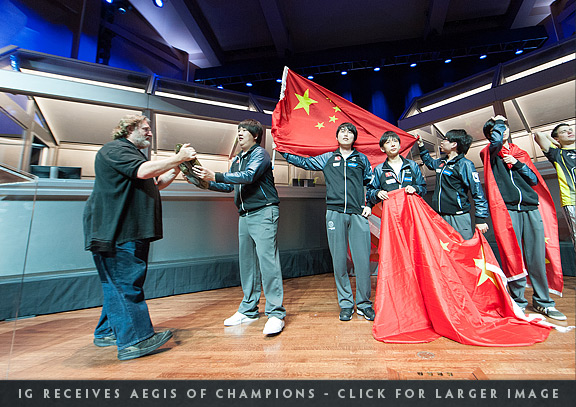 The 2012 International crowned a new champion with Invictus Gaming (iG). beating last year's champion Natus Vincere (Na'Vi) three games to one to win the Aegis of Champions. With over 90 hours of Dota 2 played, the exciting final match wasn't the only highlight to the Tournament. We have daily recaps available here – Day 1, Day 2, Day 3.
Over 567,000 simultaneous viewers from around the world joined the thousands of live viewers at Benaroya Hall to watch the final match. For those of you unable to make it to the hall to join us, we have hundreds of photos on Flickr and all the matches available on YouTube and as replays in the client. Here are also a few recaps of the event from major publications around the world – Forbes, Joystiq, Kotaku, and Gamespot
The success of The International did not happen without some help, so we would like to thank everyone who helped make the 2012 International the great event it was this includes special thanks to the following – the players, teams, broadcasters, analysts, production crew, ushers, Benaroya Hall, team wranglers, visa consultants, press, localizers, Russian stream team, travel agents, Valve staff, volunteers, coaches, secret shop operators, families, foreign press, makeup artists, sound engineers, Chinese stream team, hardware suppliers, catering staff for off-site events, production crew, translators, video streaming team, stream broadcasters, WETA craftsmen, Bruno's wardrobe consultant, cameramen, stage crew, stage manager, bus shuttle service, food service at the hall, hotel staff, graphical effects team, and of course most of all we would like to thank the community and fans, both online and in person. Without your participation and support, this would not have been a success.
If The International has you excited to try Dota 2; you can sign-up for a free invite here or if you can't wait – you can also purchase this bundle which contains an invite for you and a friend plus nine in-game items.